So this week has been great. Very busy with working a lot of extra hours at work and then shooting a wedding all day Saturday, but so fun. I am still feeling really good. I think I might be coming down with a cold. Couldnt sleep very well last night from all the congestion, but otherwise feeling great!
I got to enjoy time with my sweet friend Karrie, who is also pregnant, along with 8 of my other best friends this past friday. We had an amazing time. Here is me and Karrie's first prego pic together.. Karrie is 2 wks ahead of me and she has finally POPPED! I am still not showing much, but its fun to show our progress.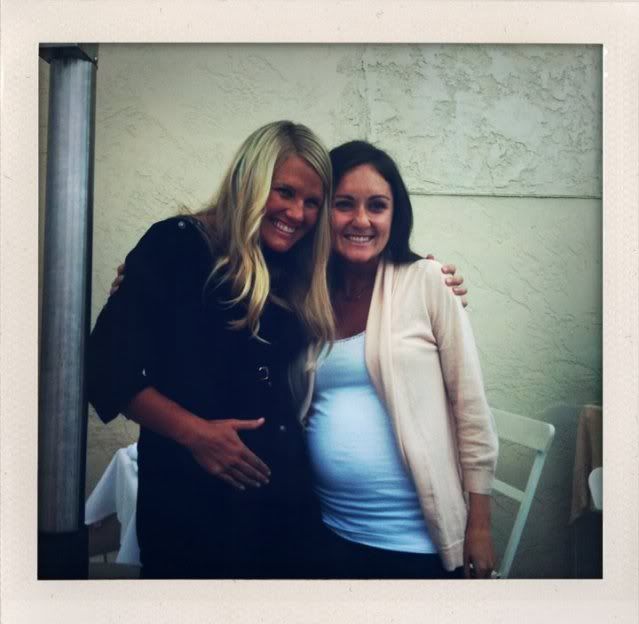 So this is our 16 wk with the little bean inside me and he or she has grown alot in the past week. Right now,
he's about the size of an avocado
: 4 1/2 inches long (head to rump) and 3 1/2 ounces. His/her legs are much more developed, and his/her eyes have moved closer to the front of his head. His/her ears are close to their final position, too. The patterning of his/her scalp has begun, though his/her locks aren't recognizable yet. He/she's even started growing toenails. And there's a lot happening inside as well. For example, his/her heart is now pumping about 25 quarts of blood each day, and this amount will continue to increase as your baby continues to develop.
I still sit in wonder everyday of how this lil miracle is developing all these amazing things inside me.. WHile i go about my normal day, the lil bean is being formed intricately. It is mind blowing and I am sooo thankful to Jesus for his amazing Creating power.
Below are a few pics, daddy took of me the other day. Hope you enjoy. Sorry we never took a 15 wk pic.. Life got too busy last week!